Event - Management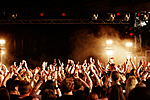 MAGOE-Event is your specialist for all kind of corporate-events
Focus is on full-service concepts.
A very efficient way is to be integrated at a very early stage into the thoughts for an event ahead.
We (possibly) propose a motto, adjust the general concept accordingly and accompany the realisation of the complete event.
Within a given budget, we make various individual proposals with clear recommendations for optimal cost : benefit evaluations.
We have a warehouse with our own equipment and also work in close co-operations with catering-companies, non-food catering
companies and of course with various artists. If, in any case, we have to rent additional material, we pass on the costs 1:1 (i.e. without any mark-up) to our clients.
In accordance with the original aim, every event gets a follow-up of a critical evaluation of the achievement of objectives.
In the cooperation with MAGOE you are not fixed to certain locations, because of our own equipment / own tents and close connections to big tent-builders you have lots of possibilities.
Here are some of our events, carried out successfully.